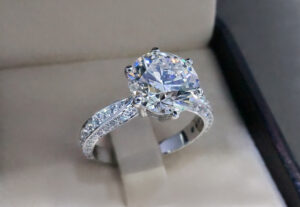 The people who are looking for moissanite and lab-grown diamonds are the ones who are looking for a better alternative to natural diamonds. Many people consider them as a great alternative to mined diamonds. However, a customer must learn about the dissimilarities between the two. You need to identify the similarities and differences between them to know which one is the right option for you.
What Is Moissanite? 
Moissanite is made from silicon carbide and it has better durability and a shimmering appearance. One thing you should note is that silicon carbide is extremely rare and because of this rarity, all things made from it today are made from a synthetic version created in a lab.
Benefits Of Moissanite
Even though moissanites are real diamonds, they have several advantages and are the preferred choice as a diamond alternative to many people today. If you are looking for a cheaper gemstone for a forever ring, but do not have a lot of money, you can choose moissanite as it is cost-efficient and have a great appearance and durability.
The rating of moissanite in the Mohs hardness scale is very high. With a rating of 0.75, the durability of moissanite makes it the best choice for people who are doing a lot of work with their hands and does not want to remove their rings during work. They are, however, not on the same level as natural diamonds.
What Is A Lab-Grown Diamond?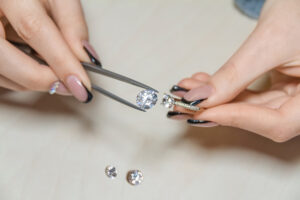 A lab-grown diamond, as the name suggests, is a diamond that is made in a laboratory. It is also known as man-made diamonds. The scientists achieved this by recreating the conditions in the Earth's crust that are necessary for the creation of natural diamonds. A diamond created in a lab and a natural diamond do not have any chemical difference. Both of them are crystal-clear carbon. That means, the hardness, look, and sparkle of a lab-grown diamond is the same as that of a natural diamond. Millions around the world today prefer their engagement rings to be made from lab-grown diamonds.
Difference Between Lab-Grown And Moissanites
Moissanite's sparkle is one of its most distinguishing characteristics. Moissanite glows brighter and more colorfully than a diamond. Lab-grown diamonds come in a variety of hues. As a result, they can be colorless, near colorless, or colored, such as purple, red, or blue. Moissanite is exclusively found in colorless, near-colorless, and yellowish-green hues in nature.