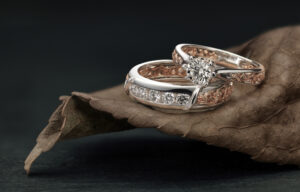 Solitaire ring settings are one of the oldest settings and it is also one of the most popular. A solitaire ring, as the name implies, has only one gemstone set in it. The Tiffany setting, which dates back over a century, is undoubtedly the most famous image of solitary diamond engagement rings.
Solitaire settings are often known as "prong settings" in the jewelry industry because they use four or six metal prongs to hold the center stone in place. Depending on the ring's structure, prongs might be spherical, clawed, pointy, v-shaped, or even flat.
Solitaire Diamond Rings: Pros And Cons
Solitaire settings have several benefits over other forms of ring settings because of their simple design. Let's take a look at some of the benefits of solitaire rings.
In a solitaire setting, the center diamond, whether it is a natural diamond, lab-grown diamond, or any other diamond alternative, will be the center of attraction. In addition to that, a solitaire diamond ring is less expensive than other diamond styles.
Solitaire rings are way easier to clean and take care of. This ring setting is appropriate for a wide range of diamond shapes. Most importantly, the solitaire setting allows more light into the diamond, which increases the sparkle of the stone.
Now let's look at the disadvantages.
High prong settings can easily catch or grab onto objects. That means, it can get easily damaged. In addition to that. the girdle is usually exposed in most solitary settings.
Types Of Settings For Solitaire Rings
Bezel Setting
A bezel setting is a metal band that completely encircles the diamond's outline and protects its edges. This is the optimum option for creating a smooth, snag-free ring installation if you live a busy lifestyle. The majority of bezel styles are modern and can make the diamond appear larger. If there are any defects or blemishes around the diamond's edges, these can also be easily concealed.
Tension Setting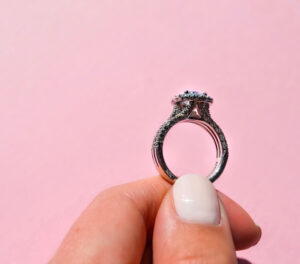 Tension settings are distinguished by their distinctive appearance, in which the diamond appears to float between two metal arms. The tension setting works like a loaded spring, holding the diamond in place with tensile force. There is no metal beneath the stone, unlike most other typical ring designs, giving the band a very unique appearance. Furthermore, the absence of metal makes it simple to polish the diamond.
Prong Setting
The most popular form of setting for diamond engagement rings is the prong setting, which is based on a basic premise. Prongs, also known as claws, surround the diamond's girdle to keep it firmly and unobtrusively in place. This allows more light to enter the diamond, resulting in increased brightness and radiance.