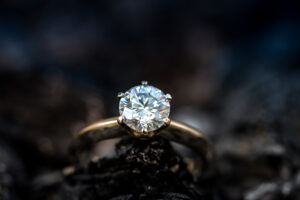 Pear diamonds have long been popular for several reasons. For instance, the unique diamond shape and exceptional design mean that the stone appears more brilliant and larger than it is. Pear diamonds are an excellent option for jewelry pieces, including engagement rings. Here, we will talk about the things you should keep in mind when purchasing pieces of jewelry with pear diamonds.
What A Pear Diamond Has
The stone has a rounded end and tapered point, similar to a pear. The design makes the stone prone to being chipped off, so choose an engagement ring setting that avoids it to the maximum extent. It is a blend of the marquise and round brilliant diamond cut and is also known as a teardrop diamond. The terms pear and teardrop also refer to pear diamond rings; do not be confused when you happen to come across one of those words.
Pear Diamond Symmetry
The characteristic plays an important part in the value of a pear diamond. When viewing the stone with its face up, both sides have to match. You can easily tell whether or not both sides are symmetrical since the gem will appear a bit wonky as you examine it manually. It does not impact the brilliance, but a non-symmetrical pear diamond will appear slightly 'off' after you wear it. Do not forget to check it from every angle possible.
A Bowtie-Like Effect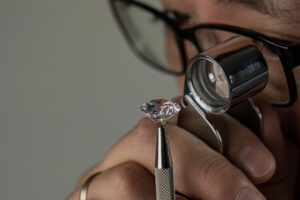 When exploring a pear diamond ring, you will come across a shadowy spot in the middle of the stone that resembles a bowtie. It happens when a skilled worker cuts the gemstone to shape it.
Every pear-cut diamond will have the effect, so it is pointless to search for one without it. That said, some pear diamonds will have a stronger bowtie-like shadow than others. It means that there are pear diamonds with bow-tie effects that you can barely spot. Do not forget to inspect the stone for it, and choose the product with the least visible bowtie-like effect.
How Your Intended Wants To Wear The Ring
The stone is unique because it points toward a particular direction. It means that the wearer has the opportunity to choose whether they want it to point down or up. The more common option is to rock the diamond with it pointing to the fingertips, but one can wear it in any way they want.