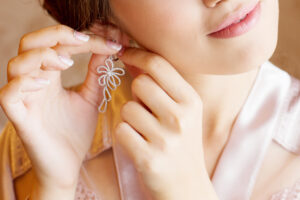 There can be several types of flaws in your diamonds, such as blemishes, inclusions, and black spots. Diamonds are comprised of carbon, and the dark spots in these gemstones are simply dots or spots of carbon that haven't crystallized. These are naturally occurring defects that can occur in both natural and lab-grown diamonds. Most diamonds have black spots, which may or may not be visible to the human eye.
Black patches can range in size and, in certain situations, can be seen with the naked eye. The size of black spots can have a significant impact on your diamond's clarity rating.
Can Black Spots Appear Unexpectedly?
No, they won't appear unexpectedly. Black specks appear during the diamond creation process. As a result, they will not appear unexpectedly in your diamond rings. However, depending on the light and the cleanliness of your stone, they may be more or less noticeable.
Can Black Spots Increase The Risk Of Your Diamond Chipping?
Normally, no. In contrast to inclusions and other faults that can weaken your diamond, black dots are completely harmless. They are formed of the same material as diamonds but are colored differently. One of the most serious issues created by black spots is that they might reduce the appeal of your diamonds, particularly those with larger sizes.
Is It Possible To Get Rid Of Black Spots?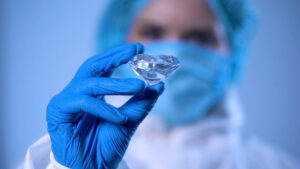 Because black spots are a natural feature of the diamond, they cannot be removed without compromising the stone's integrity. Some clarity-enhancing treatments may help to eliminate black spots, but they typically involve modifying the diamond's structure, which compromises its hardness and durability.
Laser drilling is one way for removing black spots from diamonds. It entails cutting a minuscule hole in the diamond's surface and dissolving or burning black areas using acid or heat. As a result, the spaces where the black spots were will be left empty. These empty gaps, as well as the small tunnel formed during this process, will be filled with a crystal-like substance. This is referred to as fracture filling.
Laser drilling can compromise the diamond's structure and integrity, particularly if there are too many black spots to be eliminated. If you have black spots in your diamond ring, the best way to limit their appearance and prevent them from hurting the appeal of the stone is to keep the ring clean. This can assist to make the black areas on your ring less noticeable.