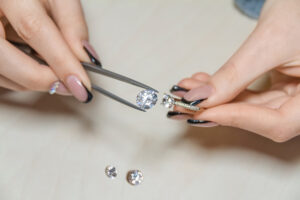 Engagement and wedding bands with channel settings are quite popular among couples these days. A channel setting is a style of mounting where precious stones are placed in a channel formed by two metal strips. The gemstones are arranged in a row, which can run the length of the ring's band.
If you are interested in choosing a channel setting for your lab-grown diamond engagement ring, then you should know about its benefits.
Advantages Of Choosing Channel Setting
It Is A Safe Option
One of the most significant benefits of channel setups is the safety of the stones. It is difficult for the stones to fall out because they are placed in a channel. They're also well-protected against inadvertent strikes that could chip them.
No Issues With Prongs
There are benefits and drawbacks to using prong settings. One of the drawbacks of prongs is that they might bend and grab your clothing. Additionally, prongs wear thin over time and therefore can break easily, causing your diamonds to fall out of the setting. These problems do not present with channel settings, which are ideal if you do the job that requires your ring to pick up on objects more easily.
Tips For Shopping Channel Settings
When purchasing an engagement ring with a channel setting, be sure the band is the correct size, and do not purchase if you are unsure. It's important to take extra precautions to avoid the inconvenience of resizing this style of ring.
Take a close look at the channels in the settings. Look for any loose gemstones. Keep an eye out for channel walls that are twisted or misaligned; their edges should always be straight and clean. Stones should be uniformly distributed throughout the channel. It's fine if they brush up against each other, but don't let them overlap.
Are There Any Drawbacks For Channel Settings?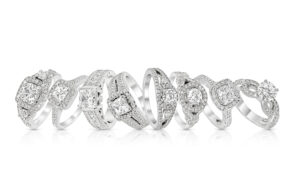 Cleaning your ring is not made any easier by channel settings. Reaching deep into the passages to wipe away the debris trapped there is difficult. Dirt particles collect in the bottom of the diamonds in the setting, which might be an issue. An ultrasonic cleaner is often the most effective technique to clean such rings.
Channel settings are difficult to repair due to their structure: If not done correctly, any attempt to repair them risks bending the channels. Some of the diamonds may become loose as a result, and the channels may no longer appear straight.