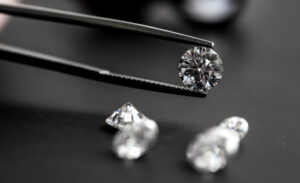 The triple X diamond is a trade term used by jewelers to denote diamonds that have Excellent cut, symmetry, and polish on their GIA certificates. The GIA does not use this term, but the jewelers do. This article analyzes more about triple X diamonds so that you can determine whether you should get them.
What Are Triple X Diamonds?
The trade term Triple X diamond is used for round brilliant diamonds that the GIA grade as having Excellent cut, Excellent polish, and Excellent symmetry. X is used to denote Excellent, so Triple X just means Triple Excellent.
The cut, symmetry, and polish of a diamond are important parameters that are used to analyze how well a diamond is cut. They are an indication of the craftsmanship involved in transforming the rough stone into a polished diamond.
Considering these parameters are greatly important, as they can have a direct impact on the brilliance and fire of your diamonds. The GIA usually uses grades like Poor, Fair, Good, Very Good, and Excellent to denote the quality of cut, symmetry, and polish of diamonds. Excellent is the grade given to diamonds with the best cut, symmetry, and polish. With the reduction in the grades, the brilliance, fire, and value of diamonds can also deteriorate.
Many buyers specifically seek out triple X diamonds, as they come with the best craftsmanship. These stones also boast elegant brilliance and sparkle.
You can find both natural and artificial diamonds that come with triple X grade. These quality attributes are important for both mined and lab grown diamonds. Hence, you should check the cut, symmetry, and polish of diamonds irrespective of their origin.
What Is Excellent Cut?
The Cut of a diamond is an attribute that is used to determine the proportions of a diamond including its depth and how the angles of facets are arranged. A diamond with an Excellent cut grade means that it can exhibit intense sparkle, fire, brightness, and scintillation.
What Is Excellent Symmetry?
Symmetry is used to analyze the exactness of the shape of a diamond. It refers to how well the facets are aligned and how identical the facets of the same type are in size, proportion, and shape.
What Is Excellent Polish?
The Polish of a diamond determines how smooth the surface of the diamond is. Some diamonds can have pits or polish lines that are often cleared through re-polishing.
Triple X diamonds can be costly than diamonds that come with lower cut, polish, and symmetry grades. However, the amount you spend is worth it, as you can get wonderful sparkle and brilliance from your diamonds by choosing these stones.