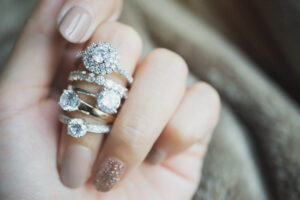 Consumers' preference for artificial diamonds is mostly driven by their affordability. Artificial diamonds are quite affordable when compared to actual diamonds, making them a desirable alternative for individuals on a tight budget. The average retail price of a one-carat round synthetic diamond for an engagement ring is around $2,318, which is roughly 73% less than a real diamond of the same size and grade, which could cost over $8,740, according to Edahn Golan, an independent analyst for the diamond business. This lower price point allows couples to purchase larger stones or allocate their budget toward other aspects of their engagement or wedding.
The Market Share Of Artificial Diamonds
While the demand for artificial diamonds is on the rise, they still represent a relatively small share of the overall diamond market. Man-made diamonds now make up about 7% of specialized diamond jewelry sales, up from just 3% in 2020. However, this percentage is expected to grow as more consumers become aware of the benefits of artificial diamonds and as major jewelry retailers embrace this trend.
Major Players In The Artificial Diamond Market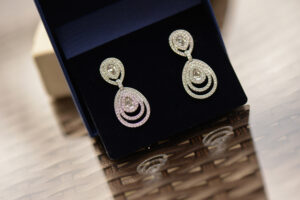 Charles And Colvard: Charles and Colvard is one of the prominent players in the lab-grown diamond industry. They offer a wide range of lab-grown diamond engagement rings and jewelry. For example, their 1 1/3 carat round Cydia lab-grown diamond Halo engagement ring in 14K yellow gold is priced at $2,919.20.
Kay Jewelers: Kay Jewelers, a well-known jewelry retailer, has also recognized the growing demand for lab-grown diamonds. They offer a variety of lab-created diamond engagement rings, including the popular THE LEO Legacy lab-created diamond three-stone engagement ring in 14K white gold, priced at $2,999.99.
Pandora: Pandora, the world's largest jewelry company, made a significant shift in 2021 by announcing that they would stop using mined diamonds and instead use lab-created diamonds in their jewelry. This decision was driven by a desire to sell sustainable jewelry and respond to increasing consumer demand for lab-grown diamonds.
Signet: Signet, the largest jewelry company in the United States, which owns Zales, Kay Jewelers, and Jared chains, has also recognized the popularity of lab-created diamond jewelry. In their March earnings call with analysts, Signet CEO Virginia Drosos referred to lab-created diamonds as a "fast-growing category" in their jewelry portfolio.
In conclusion, the rising popularity of artificial diamonds is driven by their affordability, ethical considerations, and increasing consumer awareness. Lab-grown diamonds offer an attractive alternative to natural diamonds, allowing individuals to purchase larger stones at a fraction of the cost.