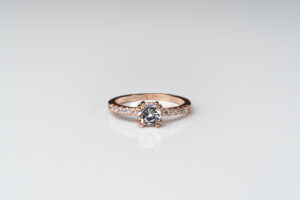 Many people want their engagement rings to be shiny and flashy. If you are looking for some extra bling for your engagement ring, then the best options you can choose include channel and pave engagement ring settings. Both of these ring settings come with several additional stones set on the band of the ring. The sparkle created by these stones can make your ring extra shiny.
Even though both the channel and pave settings have some similarities, there are significant differences between them in terms of how the stones are set. Therefore, we list some important things you have to know about these ring settings so that you can easily determine the right option for you.
The Pave Setting
This setting can give an elegant shine to your engagement ring because of the large number of accent stones covering the band. Here, the small stones will be held using small prongs or beads. In a pave-set ring, the metal of the band will be hardly visible because of the stones covering it.
As prongs are used to hold the small stones, this setting does not hinder the light from entering the stone. This can offer enhanced sparkle and shine to your ring thereby adding to its overall appeal.
But the small prongs may get loose over time which can increase the risk of losing your stones. Therefore, it is important to inspect your pave-set ring occasionally to look for loose prongs.
Pros Of Pave Setting
This setting can be used for both modern and vintage-style engagement and wedding rings.
The center stone of your ring can appear bigger than it really is because of the sparkle created by the accent stones.
As it involves small accent stones, it is very affordable, especially, if you go for lab grown diamonds.
Cons Of Pave Setting
It can be challenging to clean and maintain your pave-set ring because of the large number of stones.
Can be difficult to resize.
Channel Setting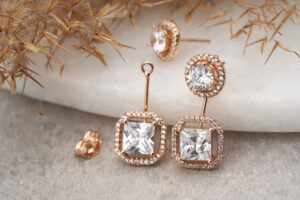 The channel setting can be more secure, as the stones are held inside a channel made of metal thereby reducing the risk of losing them. But as the stones are more concealed in this setting when compared to the pave setting, the brilliance offered by it can be lower than the latter.
Pros Of Channel Setting
Stones are more secure.
Offer a subdued sparkle and shine.
Can prevent the stones from snagging on things and makes the ring more durable.
Cons Of Channel Setting
Brilliance and shine can be less than the pave setting.
It is easy for the dirt to get trapped inside the channel and in between the gemstones.
So make sure that you are aware of the pros and cons associated with each setting before choosing an option for you.